M-PLAY is positioned as a reference player and specialist in the design and marketing of custom sports balls.
For 20 years, our know-how has enabled us to produce more than 200,000 balls per year in various ranges, from premium balls – merchandising for sports clubs such as Benfica Lisbonne, Olympique Lyonnais as well as a large part of French professional clubs, to promotional balls for brands such as HARIBO, CANAL +, RATP, BURGER KING…
We select the best balls for you for the practice of different sports: football, basketball, rugby, volleyball, handball, etc …
M-PLAY aims to offer custom made balls to professional clubs and advertisers looking for a quality promotional product.
Our balls are produced in Pakistan, a historical specialist factory that works in accordance with all the social and environmental standards (BSCI, SEDEX, SA8000…).
We pay the greatest attention to the ethics of our partners in terms of transparency, as well as to the production methods and means used (no child labor, etc.).
Whether you are looking for a personalised soccer ball for a promotional campaign or a FIFA standard premium ball…
Or you want a rugby or beach volleyball with an unique design…
M-PLAY can answer your demands and will bring you all its know-how.
Since January 2020, all of the approaches and actions undertaken by M-PLAY in terms of CSR policy have been documented in the "Guide to good ethics and business practices".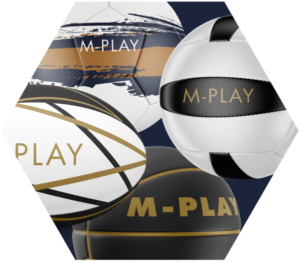 Our Expertise
for soccer ball

THE HAND-MADE BALL
recommended for football training
This is the traditional technique guaranteeing a high-quality standard. The soccer ball panels are assembled by hand. The yarn used is thicker, allowing a wider variety of component thicknesses, which gives soccer balls a better touch, enhances strength and sphericity.
THE HYBRID BALL SEWN AND MICRO STITCHED BY MACHINE
adapted for entry level balls

The new standard for "merchandising / training" ball. The football panels are assembled using a sewing machine. The micro-sewing technique allows precise assembly and protects the sewing threads by making them almost invisible. Innovative materials (textured appearance) can be used to give the balls a high-end look.
THE HEAT-SEALED BALL
ideal for football compétition

Heat-sealing is the most recent technical advancement in the manufacture of soccer balls, especially of those for competition. The panels are heat-sealed, which gives the ball a maximum waterproof efficiency and a sphericity perfection.
Balls are made of materials that define their characteristics :
The butyl bladder promotes air retention, while the latex bladder allows better rebound.
There are 3 types of components, classified from least resistant to more robust, in increasing order of range: rubber, PVC and polyurethane (PU).
NB : To make the component more resistant and keep good sphericity in the bladder, the main component is laminated with textile.
It is then cut into panels, assembled to form the ball.
There are 3 types of ball assembly, adapted to all kinds of practices: hand-made, machine-made and heat-sealed ball.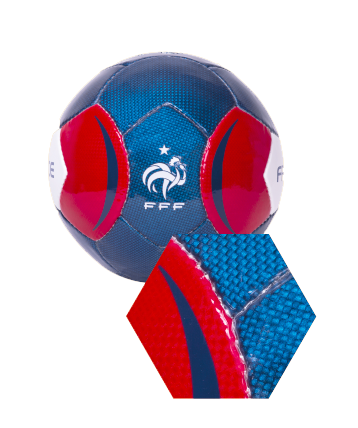 MICRO STITCHED MACHINE OR HYBRID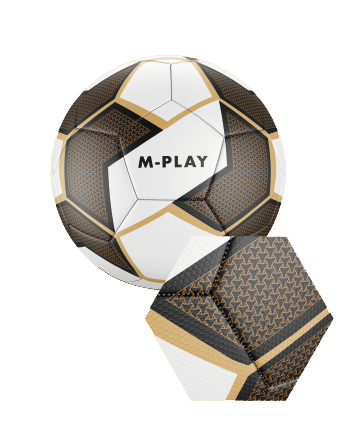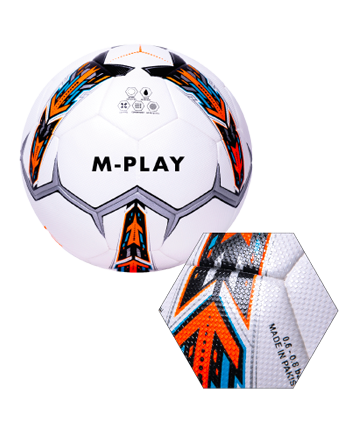 A custom design, a technique adapted to your needs (competition, training, promotion).